RH30E01XW T-REX 300X RTF (AC)
Align newly designed T-REX 300X RTF (Ready to Fly), pre-assemble and combo with ALIGN A10 transmitter 10 channels 2.4GHz system and MiniGRS gyro makes flying much easier.

T-REX 300X, small but all-in-perfect. It adopts DFC rotor head unit, low CG and low wind resistance providing direct flight responses. The carbon fiber main frame is made of composite material and with reinforcement plate and brace assembly effectively enhancing structural intensity and torsion resistance. Narrow body design makes mechanical structure much stronger. The battery slider and top-mounted motor design with anodized bright red color brings pretty texture on this model. Thicken aluminum alloy tail boom for the best torsion resistance and increase the tail support rod lifetime. The progressive lightweight landing skid making this model the leader in this class. Plus the fiberglass painted canopy features lightweight and low in wind resistance.

T-REX 300X equipped with MiniGRS flybarless system special designed for ALIGN small helicopters (Under 500 series). It's light and simple with easy and quick settings, suitable for most pilots and beginners. Also the standard high torque and high efficiency 300MX 3700KV/2216 brushless motor not only contributes to dramatic power increase, the high efficiency cooling system enables cooler operating temperature during and after flights when compared to motor of previous generation. Allow to provide consistent power output and keep stable RPM in non-stop 3D flying presenting perfect performance. Also it pairs with digital HV DS450 and DS455 servos, supporting 8.4V output, fast response and high torque. The new 25A brushless speed governor support 5~8.4V adjustable BEC voltage.

T-REX 300X RTF is tiny but everything all-in-one so that can perform well in not only in-door show but also outdoor 3D flights. This model offers you the best bargain price allow you to have fun flying at any time.
●T-REX 300X DOMINATOR Kits Set x 1 set
●MiniGRS Flybarless System x 1 set
●230 Carbon Fiber Blades x 1 set
●50 Tail Blade x 1 set
●RCE-BL25A 25 Brushless ESC x 1 set
●300MX Brushless Motor(3700KV/2216) x 1
●DS450 Digital servo x 3
●DS455 Digital servo x 1
●A10 Radio Control System Combo x 1 set
●MiniA.BUS Receiver x 1
●Balance Charger RCC-3SX x 1 set
●3S1P 11.1V 1300mAh/30C x 1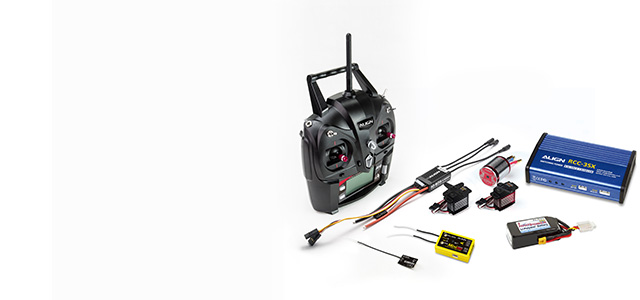 T-REX 300X RTF Specification
●Length: 476mm
●Height: 158mm
●Width: 88mm
●Main Blade Length: 230mm
●Main Rotor Diameter: 525mm
●Tail Rotor Diameter: 143mm
●Motor Pinion Gear: 14T
●Main Drive Gear: 115T
●Main Drive Pulley: 40T
●Tail Drive Gear: 13T
●Drive Gear Ratio: 8.21:1:3.08
●Weight(w/o battery): 418g
Equipment Required for Assembly
●Dial Pitch Gauge or Digital Pitch Gauge
●Swashplate Leveler
A10 Specification
●Channel: 10-Channel
●Available Models: helicopter/airplane/multicopter
●Frequency range: 2.408 ~ 2.475 GHz
●Power: no higher than 20dBm(For EU)
●System Mode: 2.4G system AFHDS 2A
●Suitable Voltage Range: 4.0 ~ 6.0V DC
●Receiving Distance: the open ground no interference < 1000M
●Low Voltate Warning: Lower than 4.2V
●Weight: 485g (excluded battery)
●Size: 275x187x102mm
MiniA.BUS Receiver Specification
●Channel: 14 channels
●RX Sensitivity: -105dBm
●RF Range: 2.4055 ~ 2.475 GHz
●System Mode: 2.4G system AFHDS 2A
●Power: 4.0 ~ 8.4V DC
●Transmit Distance: In open space without interference <150M
MiniGRS Flybarless System Specification
●Operating voltage range: DC 3.5~8.4V
●Operating current consumption: <100mA @ 4.8V
●Rotational detection rate: ±300°/sec
●Rudder yaw detection rate: ±600°/sec
●Sensor resolution: 12 BIT
●Swashplate Support: 120° CCPM Swashplate
●Mode Support: T-REX250, T-REX300, T-REX450, T-REX470, T-REX500
●Receiver Support: ALIGN A10(A.BUS), Futaba S-FHSS, DSM2/DSMX
●Operating temperature: -20℃ ~ 65℃
●Operating humidity: 0% ~ 95%
●Comply with RoHS restrictions
●Size: 37.6x22.4x13mm
Balance Charger RCC-3SX Specification
●Input Voltage: AC 100V~240V(50/60Hz)
●Output Voltage: 2cell DC 7.4V / 3cell DC 11.1V
●Supported Battery Type: Li-polymer / Li-ion
●Charging Method: CC/CV
●Charging Current: 2A
●Size: 123x74.3x32mm
●Weight: 260g
Battery Specification
●Output: 11.1V 1300mAh 14.4Wh(3S1P)
●Supports 5C charging
●Dimension: 74x36.5x21mm
●Weight: 115g
●14AWG heat-resistant silicone rubber wire. Heat resistance: 200 ° C / Current withstand: 50A
---
We Also Recommend